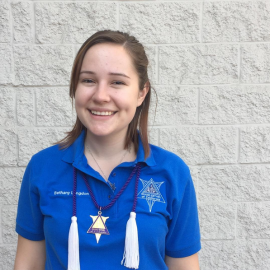 Bethany, from San Pedro
"They all had a special bond, and I knew I just always wanted a special bond with 18 other girls. My favorite thing is basically meeting every girl out there and being able to say to them "I'm Senior Custodian too, that's still an important position and we still need you girls around as much as an Honored Queen. You're just as important as she is." – Bethany talking about being a Bethel-elected state representative this year, and why she thinks her position is so important to other members.

Rebecca, from Temecula
"I'm a first generation Job's Daughter. On my grandfathers side, the men had always been Masons; and in fact, (my Grandfather) joined Masonry late, because he always thought you had to be invited, not ask, so he was always waiting for an invitation. Later, I kind of always wondered where he went, and then when I found out it was a girls group, I was like "Hey, you want to take me some time?" Rebecca from Temecula, talking about her Grandfather, and getting involved with Job's Daughters.