Local:

Members are encouraged to be part of their local communities. To support this, the Bethels (individual locations for member groups) in California give back to their communities in different ways. This may be through parades, servings , fundraisers, community services, and more. These events are chosen, planned, and executed by the members in their bethel, allowing them to develop a desire to be involved in their local communities.
State:
What is Freedom Dogs? 
Freedom Dogs is a nonprofit organization devoted to serving wounded members of the military who are attempting to return to civilian life.  For many military personnel, post-traumatic stress and traumatic brain injury (TBI) are signature injuries.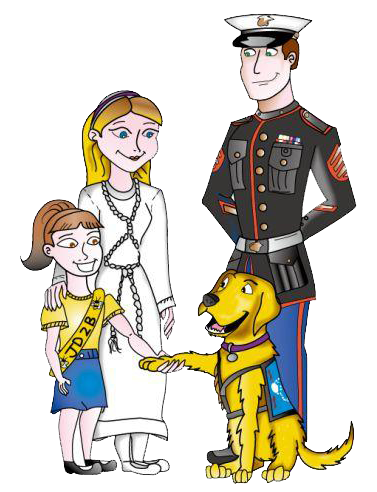 Although largely invisible, both post-traumatic stress and TBI can have a devastating impact.  For example, post-traumatic stress can cause flashbacks or nightmares, panic attacks, hypervigilance or severe isolation.  Almost once an hour a veteran or service member dies as a result of suicide – fatalities that exceed the numbers incurred in actual battle.
Their Mission Statement is:  Speeding the recovery and enhancing the lives of the wounded military heroes through the use of specialty-trained service dogs.
Along with their trainers, their specialty service dogs provide both physical and emotional support, helping wounded warriors to successfully make the challenging transition back to civilian life.
Freedom Dogs was founded by Beth Russell, RN in 2006.  In May of 2009, Freedom Dogs completed a highly successful pilot program with the Marine Corps's Wounded Warrior Battalion-West at Camp Pendleton and has become an indispensable part of the Marines' rehabilitation and recovery from post-traumatic stress.  Freedom Dogs is "embedded" in the Wounded Warrior Battalion – West on Camp Pendleton in Oceanside, California and works closely with the Marine Corps in providing custom-trained dogs through two free programs: The Partner Program pairs a dog and trainer team with a warrior to complement rehabilitation and assist in the recovery process. If needed, the Partner for Life Program matches a dog with a warrior for life.
For additional information, check out their website:  freedomdogs.org.
International: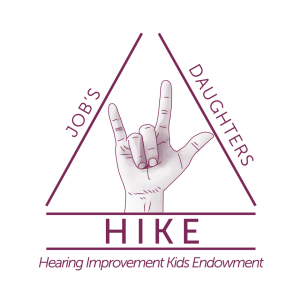 HIKE has been a partner for Job's Daughters International for many years. Through HIKE, Job's Daughters International has embraced the needs of hearing impaired children. HIKE stands for:
HEARING- process, function or power of perceiving sound
IMPROVEMENT- to bring into a more desirable or excellent condition
KIDS- children of all races, creed, or color
ENDOWMENT- providing or equipping gratuitously
The HIKE Fund, Inc. is a not for profit charity incorporated under the laws of the State of Nebraska and registered with the Internal Revenue Service as a tax-exempt charity… The purpose of the Fund is to provide hearing devices for children with hearing losses between the ages of newborn and twenty years whose parents are unable to meet this special need financially. An estimated 100 children are provided with hearing devices each year.
Learn More About HIKE