Each year, California Job's Daughters has a community project that we raise funds, assemble items, volunteer at, or generally support. We call this a philanthropic project. It's our opportunity to give back to our communities, sometimes local and sometimes around the nation. They change yearly, and have included amazing organizations such as My Stuff Bags, Canine Companions for Independence, Direct Relief, and more. Check out our past projects to find out more about the different organizations we've given back to, or to get involved with those organizations.
This year's philanthropic project is Freedom Dogs.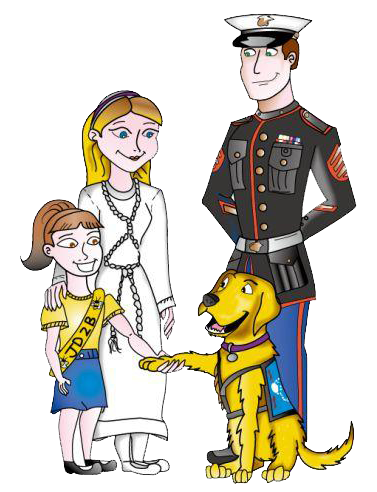 What is Freedom Dogs? 
Freedom Dogs is a nonprofit organization devoted to serving wounded members of the military who are attempting to return to civilian life.  For many military personnel, post-traumatic stress and traumatic brain injury (TBI) are signature injuries. Although largely invisible, both post-traumatic stress and TBI can have a devastating impact.  For example, post-traumatic stress can cause flashbacks or nightmares, panic attacks, hypervigilance or severe isolation.  Almost once an hour a veteran or service member dies as a result of suicide – fatalities that exceed the numbers incurred in actual battle.
Their Mission Statement is:  Speeding the recovery and enhancing the lives of the wounded military heroes through the use of specialty-trained service dogs.
Along with their trainers, their specialty service dogs provide both physical and emotional support, helping wounded warriors to successfully make the challenging transition back to civilian life.
Freedom Dogs was founded by Beth Russell, RN in 2006.  In May of 2009, Freedom Dogs completed a highly successful pilot program with the Marine Corps's Wounded Warrior Battalion-West at Camp Pendleton and has become an indispensable part of the Marines' rehabilitation and recovery from post-traumatic stress.  Freedom Dogs is "embedded" in the Wounded Warrior Battalion – West on Camp Pendleton in Oceanside, California and works closely with the Marine Corps in providing custom-trained dogs through two free programs: The Partner Program pairs a dog and trainer team with a warrior to complement rehabilitation and assist in the recovery process. If needed, the Partner for Life Program matches a dog with a warrior for life.
For additional information, check out their website:  freedomdogs.org.
Donate to Freedom Dogs through Paypal